Frames
We carry a wide selection of frames for all ages, lifestyles and budgets.  With over 700 frames to choose from, we have something for everyone.  Some people like a second pair of glasses with a special function like prescription sunglasses, a separate pair of reading glasses or maybe sports glasses or safety glasses.  We can satisfy all those wants and needs.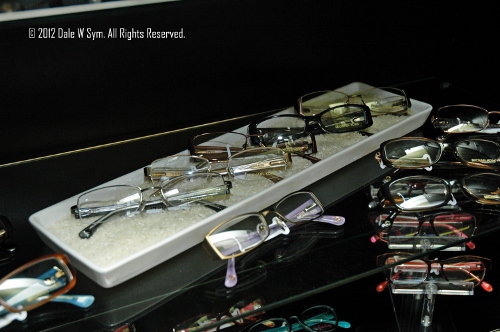 For all patients who wear contact lenses as their primary vision correction, both of our doctors strongly urge them to have a pair of current glasses to use as a back up form of vision correction and to use when they give their eyes a rest from the contact lenses at the end of the day.
Following are some of the designer frame brands that we are proud to carry:
ALTAIR
bebe | Tommy Bahama (men & women) | Joseph Abboud | Revlon | JOE
KENMARK
Vera Wang | Lilly Pulitzer | Dana Buchman | Jhane Barnes | TMX | Timex | Lilly Pulitzer Girls    Original Penguin    Penguin Junior
MARCHON
Emilio Pucci Valentino | Michael Kors | Nine West | Nautica | ck Calvin Klein | Nike | Airlock | Flexon | Xgames
MAUI JIM
Designer sunglasses for men and women, including Maui Jim readers with a built-in bifocal.
Modern
Fashiontabulous! | Genevieve Boutique | B.M.E.C. | URock
Contact Lenses and Contact Lens Services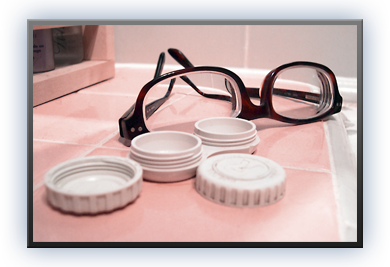 Our doctors fit many types of contact lenses for patients from young children to people who don't want to wear their bifocal glasses all the time.
We use digital technology to measure corneal curvature and topography to help in determining the best design for a contact lens for a particular patient.  We also check for dry eye and discuss previous eye health issues, any medications a patient may be taking and any previous experience with contact lenses.  Specially designed lenses can also be created for patients who have had surgical procedures on their cornea or patients with corneal irregularities such as keratoconus (a steepening of the inferior cornea which causes distortion and blurred vision).
Some of the soft lens manufacturers  and brands we use include:
Bausch & Lomb
PureVision 2 | SofLens Daily Disposable | PureVision Multifocal | PureVision 2 HD for Astigmatism   PureVision 2 for Presbyopia
Alcon   Air Optix Aqua     Air Optix Aqua for Astigmatism        Air Optix Aqua Multifocal        Air Optix Aqua Night & Day       Air Optix Colors
Coopervision
Biofinity | Biofinity Toric (for astigmatism) | Biofinity Multifocal | Clearsight One-Day   Avaira
Vistakon
Acuvue Advance Plus | Acuvue Advance for Astigmatism | 1 day Acuvue MOIST | Acuvue Trueye | Acuvue Oasys | Acuvue Oasys for Presbyopia | Acuvue 2 color enhancers
Order Contacts
If you would like to order a contact lens supply, simply call the office at 224.5454 during business hours Mon-Fri 8-5.  A contact lens prescription is valid for one year from the issue date.  We accept payment over the phone with a credit card at the time your order is placed.  Many manufacturers offer rebates making it convenient and attractive to order a year's supply.  There is no shipping fee to send a year's supply of lenses to you at home or work.
Safety Glasses
We carry "On Guard" safety frames and side shields.  We are happy to service anyone's safety glass needs.  As safety glasses must meet different standards for breakage, safety lenses are stamped with a special mark and can only be put into a safety frame which meets the industry standards.  Polycarbonate lenses are the most impact resistant and light weight material for safety lenses and that is what our office uses.   Safety lenses can be single vision, bifocal/trifocal or progressives and can have photochromatic tint (Transitions) and anti-reflective coatings just like dress glasses.